An account of a difficult day at the office – by Sophie Coyle, a valued member of the Karamus.
Saturday 22nd July 2017
A cold wet wintry Wellington morning was when the Onslow Karamu's faced the Pukerua Bay Falcon's. Sideways rain and high winds were pummelling us in the first half.  It was really freezing and the Falcon's slipped five goals ahead of us. We had some shots on goal but we were a bit unlucky and none of them went in. A number of our shots on goal – which were in the air were caught by the wind and blown back to us. By half time, everyone was so cold and the rain was getting worse. After some encouraging words by coaches, Todd Collings and Phil Coyle, we rocked on with the wind and rain at our backs and we gave everything we had.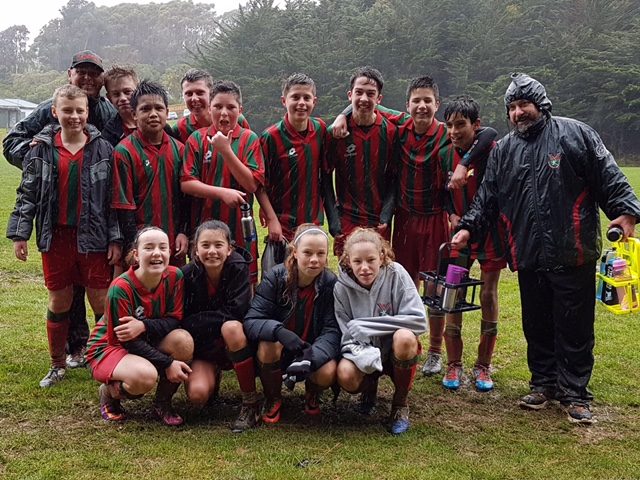 The Karamu's worked really hard and with 20 minutes to go we scored our first goal of the game. From there we were hot on attack for most of the game and came back for a five all draw. Both teams had their fair chance of winning the game but with some excellent goalkeeping from both teams a draw was a good result. Player of the day went to Mateja for putting in 120% throughout the whole game and magic moment went to Sophie for scoring her first goals of the session. Big thanks to Luke, Savio and Morgan for filling in, it really helped us out. It was great for the team's confidence, GO THE MIGHTY KARAMU'S!